So far this season, one trip northward, one southward; leaving two cardinal points to cover. I'd been meaning to drop by the CamRock Café & Sport in Cambridge again, since it recently re-opened under new ownership; and Sandhill Station, just down from the bike trail, is a nice little campground that generally has room even with a few days' notice; so, to the east then.
There were possible thunderstorms in the forecast, but I figured, since it was only one night away, it'd be a good opportunity to field-test my camping gear, which I hadn't used in rainy conditions. If I got soaked, worst case was I'd come home first thing Sunday morning, dry off, and use the rest of the day to make up for lost sleep.
Despite my resolve to head out at sparrow-fart and avoid traffic on Cottage Grove Road, it was past 7 and already pretty bright when I hit the road – sunblock time already! Fortunately the traffic was still sparse, and before I knew it I was sauntering into Cottage Grove's Olde Town Coffee House for an espresso. Inasmuch as anyone can saunter, covered in sweat and carrying two panniers and a shoulder-bag.
And just beyond the Olde Town, the trail. When I went up to Gibraltar Rock and Parfrey's Glen the previous week, I didn't notice a lot of milkweed; but by this time the trail-sides were thick with it wherever there was no tree canopy. As I went past I tried to keep an eye out for monarch caterpillars – or, indeed, adult monarchs – but didn't see any of either. There were plenty of butterflies, though, such as this Painted Lady (Vanessa cardui):


– with thanks to the iNaturalist community for helping me narrow down to species of Vanessa – and this skipper:

Just after seeing those I veered off the trail to ride the few miles of road into Cambridge for a very welcome second breakfast at the CamRock; while I was inside the sky opened in a torrent, and then cleared by the time I finished eating – very convenient. Afterwards I headed due east to check out Red Cedar Lake State Natural Area; which, at least at the entrance I used, offered very little to the land-bound, with only a short path near the boat landing. It looked great from the roadside though:

After that I'd planned one or two more stops – Rose Lake SNA, and maybe a trip into Fort Atkinson – but after only about 25 miles of riding I found myself worn out, and headed up to the campground. Which has, in passing, the most civilized approach possible: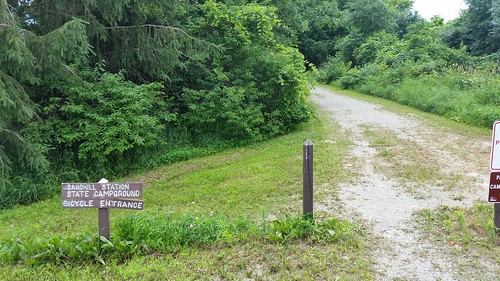 The short trail into the campground was edged with considerable milkweed, supporting a variety of denizens; for instance, this swamp-milkweed leaf beetle (Labidomera clivicollis):


… this stealthy green insect that I have yet identify:


and plenty of very active orthopterans:

There followed a relaxing afternoon of lazing around in the Sun on my air-mattress, drinking beer and reading, which is not very relevant to the focus of this blog. At one point, a gorgeous Virginia ctenucha moth wandered over and landed on my pillow, but flew off before I could bring the camera to bear.
During the night more thunderstorms came through, and I got the field test I'd been intending; but the rain-fly and groundsheet bore up under the wind and intense downpour. So ultimately, after a few minutes of tensely wondering if the whole thing would come down around my ears, it was actually pleasant to lie safely in my tent and read.
In the morning, with everything still dripping, I packed up early and hit the trail homeward. Riding in the early morning I sometimes feel like the only person awake, but truck-drivers and anglers are up before me – several of the later were already out, trying their luck in Rock Lake. A little beyond them, a courting pair of sandhill cranes, calling like the rusty hinges on a door to the underworld; one let me get close enough for quite a decent picture:


before they creaked off over the lake.